Hi guys just wanna share my new korean dvd tape...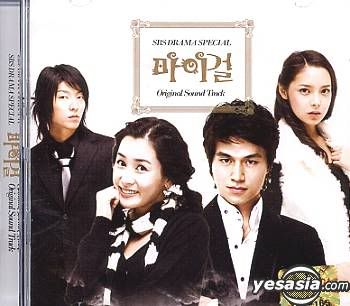 synopsis:
Zhoyoulin experienced many places for his father is a cheater.She is very independent . She supported herself by working as a tour guide and master english , chinese and japanese.
Zhoyoulin always use lies to solve any problems happened to her. No matter what kind of people , she could make friends with them in 10 sec. in incidental occasion she met xuzuhan in the park because of some men running after her!! she also met xuegongcan a rich man . Both two man she met are cousins which fall in love with her... A series of things happened between Xuegocan'a grandfather is the owner of a biggest hotel in the country. that seeks for his long lost granddaughter because he drived aways his daughter, he began to miss her and regret what he had done in the past . His last wish is to find back his only grand daughter. Xuegongcan found zhoyouline to pretend to be his sister to comfort his grandfather . But the more days past by the two cousins fall in love with her!!! but in the end she must choose between the two!!
starring:
Lee Da Hae: she's popular , pretty and naive!! she is the girlfriend of xuegongcan! she's the girl at the back.
Lee Dong wook : he's rich!! he's the boy in front!
Lee Jun-Gi: A playboy his Very rich , handsome and hopes that Zhoyoulin will like him! his the man beside the girl at the back.
Park Si Yeon: the main character she's pretty and smart!! he's father is a cheater!! she pretend to be the long lost grand daughter!! She's the girl in front.
a very nice movie..
This teleserye also defeated Dis Luv I could Kill!!
This movie has just finish in Korea!!
contnuaton:
From the creators of hit comedy/drama Sassy Girl, Chunhyang comes their latest work, My Girl. Lee Dong Wook stars as Gong Chan, the heir to a large company fortune owned by his ailing grandfather. Bedridden, he spends his days regretting his past decisions - in particular when he severed ties with his own daughter (Gong Chan's aunt) because she fell in love with a man deemed unsuitable. She gave birth to a baby girl, but then his daughter and her husband died in an earthquake - to this day, Gong Chan's grandfather has been trying to track his granddaughter down.
One day Gong Chan meets the young and energetic Yoo Rin (Lee Da Hae), who instantly reminds him of his aunt. This gives Gong Chan an idea to make his grandfather's dying wish come true - but begins a complex relationship between the young couple. My Girl also stars hot new actor Lee Joon Ki (The King And The Clown) as a playboy who falls hopelessly in love with Yoo Rin, and Park Si Yeon as a spoilt young tennis pro who sets her sights on Gong Chan - and will do anything to get him!