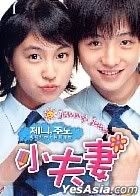 Artist Name(s) : Park min Ji | Kim Hye Sung | Lim Dong Jin
Writer/director Kim Ho-jun follows up his highly successful 2003 film My Little Bride with the controversial teen pregnancy movie Jenny, Juno! The film centers on the title characters of Jenny (Park Min-ji) and Juno (Kim Hye-song), two fifteen year old middle school students whose one night of romance has dramatic consequences for both their lives. After careful deliberation, the two expectant parents decide to keep the baby. However, they also decide to keep the pregnancy a secret from everyone, even their families. But just how long will Jenny and Juno be able to hide the truth from their parents?
Although much debate has raged over the content of the film, the truth is that Jenny,Juno isn't overtly sexual in the least (the actual sex occurs off-screen). Instead, the filmmakers focus their attention not only on the issues and concerns related to teen pregnancy, but also tap into the fantasy of parenthood itself, taking the typical romantic comedy plot into unexplored territory for the genre. And despite whatever controversy it enflamed, Jenny, Juno is a cutesy romance sure to spark conversation between parents and their teenage children!