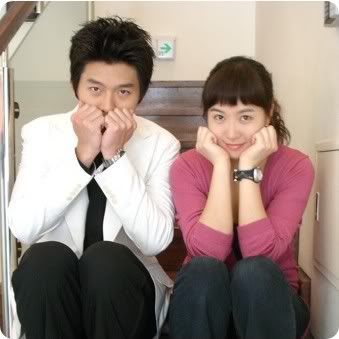 Info from MBC
KIM, Sam-Soon
A 29-year-old baker (played by Kim Seon-Ah)
Sam-Soon is an average fat woman who is always full of energy. Her father owns a rice cake shop and shes his third daughter. She used to be a basketball player in high school. Shes curious and talks to herself often. When stressed out, shell eat, drink and sleep. She loves food. She knows how she wants to live her life. She was heart broken when her boyfriend cheated on her. She tried to get over him, but it wasnt easy.
HYUN Jin-Heon
A 27-year-old restaurant owner (played by Hyeon Bin)
Jin-Heon suffers from his sad past. He had everything until the unfortunate accident 3 years ago. A handsome and smart man with promising future, having wealthy hotel owners as parents, it seemed that he had nothing to fear. His long loved girlfriend left him (right after the accident) without giving him any explanation. He became cold-hearted and twisted after the accident. His feeling of guilt was too much to bear. He becomes to despise himself and convinced that he doesnt deserve to be happy.
YOO Hee-Jin
Jin-Heons old girlfriend (played by Jeong Ryeo-Won)
Hee-Jin is a beautiful woman who is smart, kind and rich. Shes the only daughter of a wealthy family. She met Jin-Heon in high school and they were together for 6 years. They were deeply in love. When her parents moved to America, she decided to stay with Jin-Heon in Korea. She leaves after Jin-Heon's accident, offering no explanation. She goes back to Korea to see her boyfriend Jin-Heon, after three years.
KIM Henry
, adopted Korean American doctor (played by Daniel Henney)
Henry was adopted when he was two years old by a very religious American couple. He lived in the States since then. He has practical and scientific mind yet warm and generous heart. He is a gentle person, but doesnt like to talk much. Since he grew up in the states, he doesnt speak much Korean. He fell in love with Hee-Jin when he first met her in the U.S. When Hee-Jin suddenly left America he follows her to Korea.